In case you have any additional questions or you want to apply don't hesitate to contact us: international@mias.cvut.cz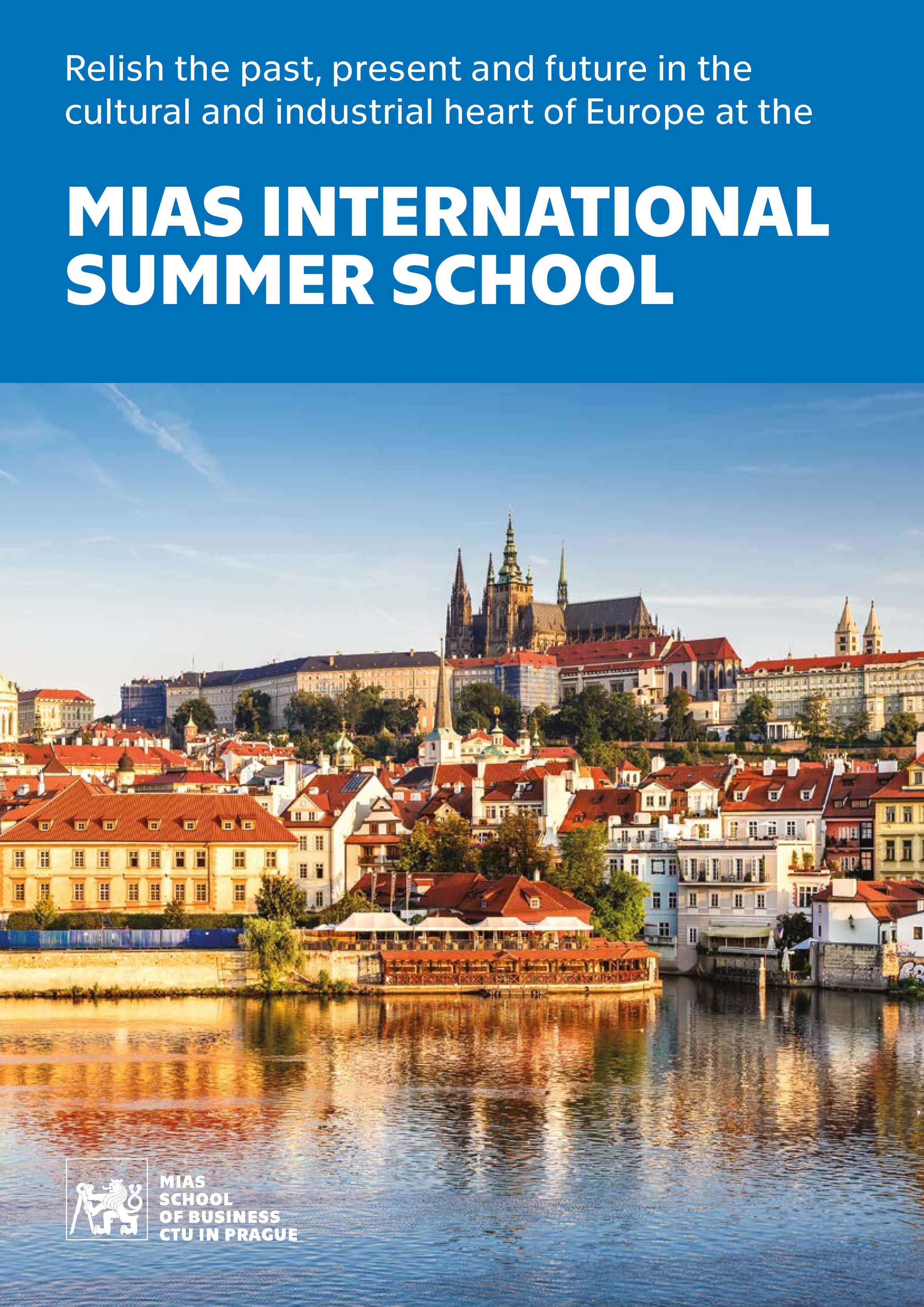 Basic information

 

MIAS School of Business

offers the

International Summer School

to undergraduate students of all areas of study. They will study in the heart of Europe, in Prague.

We organize Summer School:

– Innovation leadership for industry

MIAS School of Business, CTU in Prague

We are MIAS School of Business, Czech Technical University in Prague, focused on the interconnection of economics and management with technical knowledge as the only technical university in the Czech Republic.

Facts about our institute:

1) We are part of the oldest and largest technical university in Central and Eastern Europe with an over 300-year tradition.
2) The tradition of research and education in economics and business has been at CTU since 1919.
3) We have an innovative and practical approach to knowledge transfer.
4) Our professors are among the top in their fields.
5) Our school offers a nice and family environment with the possibility of career development and study potential.
6) Our school is an international pool of talent which offers various places for foreign study in Europe and around the world for anyone who wishes to gain international experience.
7) We offer dozens of sports during the semester and a wide range of summer and winter courses taking place all over Europe.
8) MIAS School of Business is located in the CTU campus at Dejvicka in Prague where your entire study life will take place. The campus includes the National Technical Library, canteens, dormitories and sports centers.

Important dates

 

Information for MIAS Summer School incoming students to Prague (June/July 2018):

Arrival date: Saturday, June 30 or Sunday, July 1
       – each student will be picked up by our organization team from the airport.
Official opening of Summer School: Monday, July 2
Official closing: Friday, July 20
Departure date: Saturday, July 21

Goals of Our Summer School

 






Innovation leadership for industry

 

This Summer School Programme provides students with four different pillars. The programme consists of two study courses, Innovation leadership for industry and Czech history and culture. It is focused on Industry insight, which consists of company visits, and Leisure time, in which students have a great opportunity to explore the amazing beauty of Prague & Central Europe.




Schedule

 

Cultural & Social events

 

What can you visit during our weekend trips?

 Český Krumlov

Down in Southern Bohemia, lies the fairy tale town of Český Krumlov – a town so scenically historic it's a UNESCO World Heritage Site. Brimming with stunning examples of Renaissance era architecture, the picturesque community wraps around a bend in the Vltava River and boasts the beautiful 13th century castle – a mix of Gothic, Renaissance and Baroque styles – at its core. Beyond its rich history, Český Krumlov also has a thriving cultural life that includes an international art gallery, the Egon Schiele Art Centrum, a vibrant culinary scene and annual festivities including a chamber music festival and a river marathon.

 Hluboká nad Vltavou

Charming Gothic Revival chateau Hluboká nad Vltavou is considered one of the most beautiful castles in the Czech Republic.

 Holašovice

Holašovice, situated in the middle of the harmonious landscape of Southern Bohemia, is surely the most charming village in the whole of the Czech Republic. The pride of this place is the wonderful Baroque farms set around the extensive village green, which even ensured inclusion of Holašovice in the UNESCO world heritage list.

What can you visit during our one-day trip?

Kutná Hora

Kutná Hora, the silver treasury and a true gem of the country, was present at the very start of the boom in the Czech Kingdom. Architectural styles, unique buildings from various historical periods and a long history full of wine making. This is precisely what you will find in Kutná Hora, a city whose historical centre with the Cathedral of St. Barbara and Cathedral of the Assumption of the Virgin Mary have been included in the UNESCO world heritage list.

What else can you see?

Prague discovery
City tour with our experienced guide.

Social events in Prague

Bowling, picnic, summer celebrations and so on.

Assistance with other travels around the Czech Republic / Europe
Our friendly international team will be happy to advise you on how to explore Europe further.

Summer School Fee

 

Summer School Fee EUR 1,300 includes:
· tuition fee for the 2 academic courses including teaching materials
· company visits
· accommodation and breakfast at the CTU Campus for 21 nights
· cultural and social events and trips
· season ticket for Prague public transport
· assistance and advice by our team during the stay in Prague
· graduation event and farewell dinner

SCHOLARSHIP AND DISCOUNTS:
EUR 350 scholarship is offered to students from CTU Partner Universities (who will thus pay EUR 950 only). In order to make them eligible for the scholarship, universities need to register their students for the MIAS Summer School by February 16, 2018.

Financial Guide

 

We recommend you take with you 10 800 Czk / 432 Euro


This amount is only indicative and it is based on above-average quality of life. We take into consideration that on vacation most of you will not want to cook and will want to enjoy your free time. Of course, you can come up with a lower amount if you save some money.

For more information, please see the price of some foods and leisure activities

Other Expenses

 




Accommodation

 

Shared rooms for 2-3 students
Shared bathroom, shower and basic kitchen for 3 rooms (6-8 students)
Accommodation includes breakfast service in the building
50 m walk from the lecture and working room
Masarykova dormitory



Traffic directions:
Underground (Metro) line A, station Dejvická
Tram (no. 20, 26) Thákurova stop



CTU campus

Prague

 


Prague has been nicknamed the "city of a thousand spires." As you glance over its 1,100-year-old skyline you'll be rewarded with countless splendid views of lovely domed churches and soaring old towers that combine to make Prague one of Europe's architectural gems. Everywhere you look, fine examples of Gothic, Baroque, Renaissance, and Art Nouveau styles dot the city, providing a dramatic contrast to the sturdy ancient Prague Castle. Possessing one of the best-preserved historic city centres in Europe, Prague's narrow laneways open up onto spectacular squares, each home to fine old homes and historical buildings just waiting to be explored. Must-sees include the famous Charles Bridge over the Vltava River, the splendid Jewish Quarter with its old synagogues, and the many historic churches. As one of the largest cities in Europe, Prague continues to be an important political, cultural, and commercial centre, roles it has played for centuries as the former capital of the Holy Roman Empire. Today, this important UNESCO World Heritage Site serves as a major tourist draw, luring visitors from far and wide for its lively entertainment as well as its rich theatrical and music scenes

Prague websites:


The beautiful city of Prague is rich on history, its most famous sights are:
1. Prague Castle
2. Charles Bridge
3. The Old Town Square and Astronomical Clock
4. Jan Hus Monument 5. The Clementinum and the National Library
6. Saint Vitus Cathedral
7. The Church of Our Lady before Týn
8. The National Gallery in Prague
9. The Municipal House
10. Prague Zoo
11. The Jewish Quarter (Josefov)
12. The Strahov Monastery and Library
13. The Petřín Lookout Tower
14. The Lennon Wall
15. Saint Nicholas Church
16. Wenceslas Square
17. The National Museum
18. The National Theatre
19. The Dancing House
20. The Hilltop Fortress: Vyšehrad
21.The Olšany Cemetery

Useful Information for Leisure Time During Summer School

Application

 

FAQ

 

Q: When is the best time to arrive and then leave the Summer School?
A: The accommodation is provided from 30th June to 22nd July, therefore, it is advised to arrive in the first two days as any extensions in the accommodation will include additional fees.

Q: Are meals provided during the day?
A: Only breakfast is included in the Summer School fees, however, the university canteen offers lunch and dinner, each 80-90 Czk (around 3 Euro).

Q: Is there an option to prepare my own meals?
A: Yes, there is a small kitchen at the dormitories for you to use.

More Summer Schools in Europe you can find here.