MIAS School of Business offers the International Summer School to undergraduate students of all areas of study. They will study in the heart of Europe, in Prague.
As you can see in the picture below, the Summer School Programme provides students with four different pillars. The programme consists of two study courses, Innovation leadership for industry and Czech history and culture. It is focused on Industry insight which means company visits and Leisure time, when students have a great opportunity to explore the amazing beauty of Prague & Central Europe.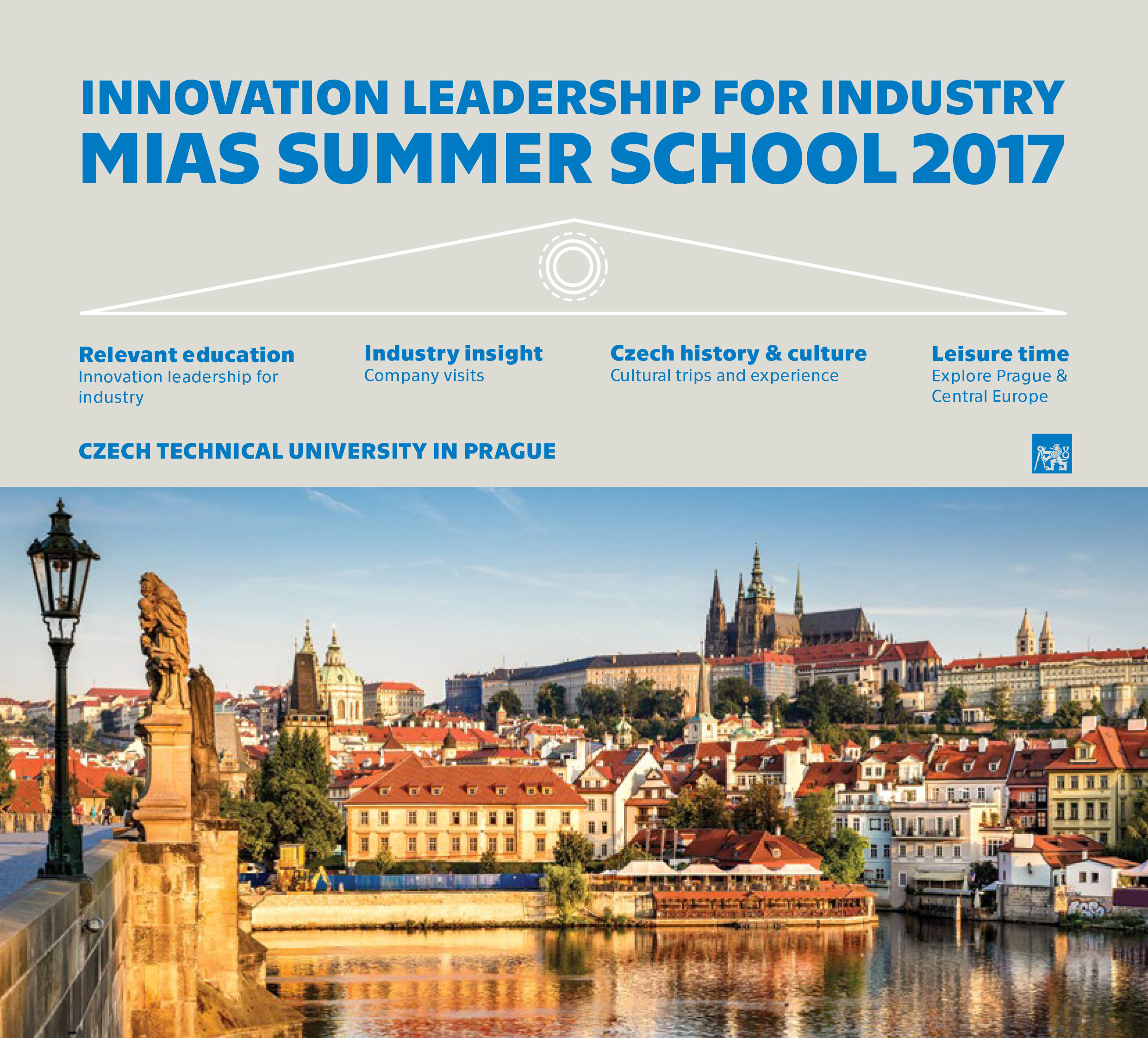 Cultural & Social events

What can you visit during our weekend trip to South Bohemia?

 Český Krumlov

Down in Southern Bohemia, lies the fairy tale town of Český Krumlov – a town so scenically historic it's a UNESCO World Heritage Site. Brimming with stunning examples of Renaissance era architecture, the picturesque community wraps around a bend in the Vltava River and boasts the beautiful 13th century castle – a mix of Gothic, Renaissance and Baroque styles – at its core. Beyond its rich history, Český Krumlov also has a thriving cultural life that includes an international art gallery, the Egon Schiele Art Centrum, a vibrant culinary scene and annual festivities including a chamber music festival and a river marathon.

 Hluboká nad Vltavou

Charming Gothic Revival chateau Hluboká nad Vltavou is considered one of the most beautiful castles in the Czech Republic.

 Holašovice

Holašovice, situated in the middle of the harmonious landscape of Southern Bohemia, is surely the most charming village in the whole of the Czech Republic. The pride of this place is the wonderful Baroque farms set around the extensive village green, which even ensured inclusion of Holašovice in the UNESCO world heritage list.

A day trip to Kutná Hora

 Kutná Hora

Kutná Hora, the silver treasury and a true gem of the country, was present at the very start of the boom in the Czech Kingdom. Architectural styles, unique buildings from various historical periods and a long history full of wine making. This is precisely what you will find in Kutná Hora, a city whose historical centre with the Cathedral of St. Barbara and Cathedral of the Assumption of the Virgin Mary have been included in the UNESCO world heritage list.

What more

   Prague discovery

   Social events in Prague

   Assistance with other travels around the Czech Republic / Europe

Important dates

Information for MIAS Summer School incoming students to Prague (July 2017):

Arrival date: Saturday, July 1 or Sunday, July 2
       – each student will be picked up by our organization team from the airport.
Official opening of Summer School: Monday, July 3
Official closing: Friday, July 21
Departure date: Saturday, July 22

Accommodation

Shared rooms for 2-3 students
Shared bathroom, shower and basic kitchen for 3 rooms (6-8 students)
Accommodation includes breakfast service in the building
50 m walk from the lecture and working room
Masarykova dormitory



Traffic directions:
Underground (Metro) line A, station Dejvická
Tram (no. 20, 26) Thákurova stop

CTU campus

Prague

Prague is the capital and largest city in the Czech Republic. Prague is said to be a heart of Europe, it is situated on the bank of River Vltava in central Bohemia.

The beautiful city of Prague is rich in history, its most famous sights are:
Prague Castle
Charles Bridge
Old Town Square
Jan Hus Monument
Clementinum
The Jewish Quarter
Vysehrad

Prague web pages:
More Summer Schools in Europe you can find here.