MIAS School of Business
offers the
International Summer School
to undergraduate students of all areas of study. They will study in the heart of Europe, in Prague.
As you can see in the picture below, the Summer School Programme provides students with four different pillars. The programme consists of two study courses,
Innovation leadership for industry
and
Czech history and culture
. It is focused on
Industry insight
which means company visits and
Leisure time
, when students have a great opportunity to explore the amazing beauty of Prague & Central Europe.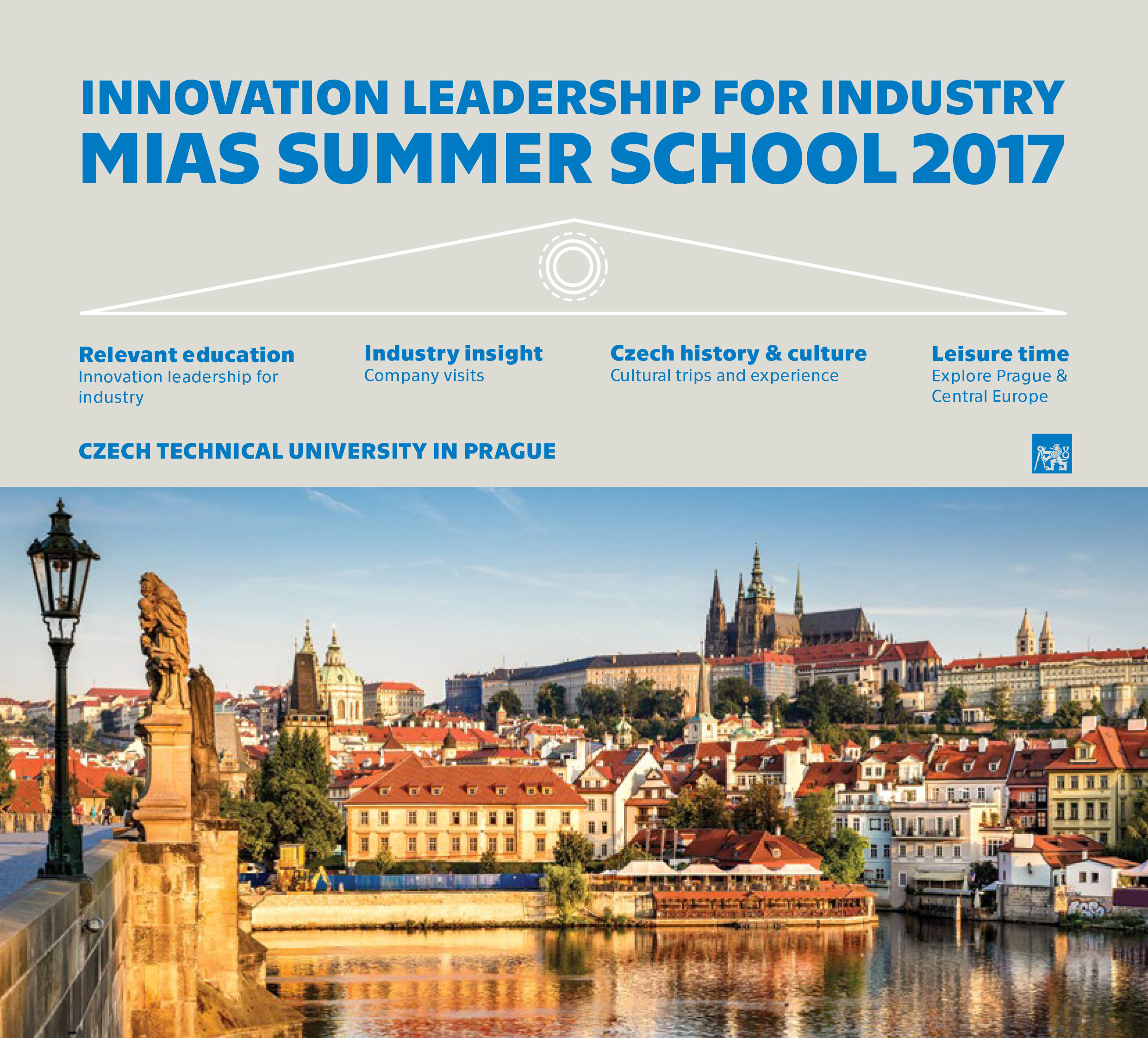 Schedule

 

Cultural & Social events

1 day trip – Kutná hora
1 weekend trip – South Bohemia
Prague discovery
Assistance with other travels around the Czech Republic / Europe

Important dates

Information for MIAS Summer School incoming students to Prague (July 2017):

Arrival date: Saturday, July 1 or Sunday, July 2
Official opening of Summer School: Monday, July 3
Official closing: Friday, July 21
Departure date: Saturday, July 22

Accommodation

Shared rooms for 2-3 student
Shared bathroom, shower and basic kitchen for 3 rooms (6-8 students)
Accommodation includes breakfast service in the building
50 m walk from the lecture and working room
Masarykova dormitory


Traffic directions:
Underground (Metro) line A, station Dejvická
Tram (no. 20, 26) Thákurova stop

CTU campus

Prague

Prague is the capital and largest city in the Czech Republic. Prague is said to be a heart of Europe, it is situated on the bank of River Vltava in central Bohemia.

The beautiful city of Prague is rich in history, its most famous sights are:
Prague Castle
Charles Bridge
Old Town Square
Jan Hus Monument
Clementinum
The Jewish Quarter
Vysehrad

Prague web pages:
More Summer Schools in Europe you can find here.